~*~

Been wandering to a few shops and whatnots, and seems like I have many friends in those places. Friends who like to follow me home.
Secondhand findings again. Hhumdehumdehhum. The colorful thing is actually a shirt, let''s see if I can wear something with that much color that is not black. Oh. It must be the most colorful piece of clothing with the least black at the same time that I have.
The dress here is secondhand (and of a weird fabric, like some swimming wear!), yet it cost me a bit more than usual. But.. it smiled so prettily. Wait. More color. My my. Must be careful, might be spring.
More books, now, please, which shop sells me time for reading?
The candlehondler and some glass items I carried home for decoration purposed were -50%.
Fits my usual sense of decorating home which is carrying so much little stuff, like books and boxes in it, that it's a complete stuffed chaos. Very enjoyable chaos though.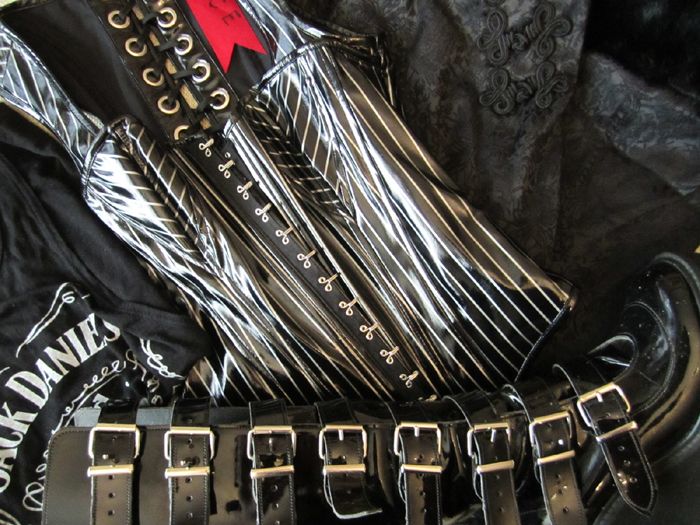 These sweeties rolled to my garden from the clothing swap eve in which gorgeous [
Tinde
] invited me. A good deal of people attended, I ate a good deal of cake, lost a good deal of money and showered some of my things on others. Also continued the evening to
Klubi
and 80's inspired eve with darky music with Jen, [
TomVi
] and [
Ravenoaris
]. I think I had a pic from there, but seems like it wasn't in my camera, hmm.
Of this I did have! Accompanied A & P to Within Temptation's concert at Helsinki, Kaapelitehdas. That singer sure has a superbly beautiful voice!
A cheese cake! I made it, and while it wasn't perfect, it didn't poison my sis nor Talu who I used as quinea bigs.
As for other things.
Last time I mentioned something about studying history on "free time" being a time consuming job. Apparently it all became a health consuming as well, since I spend last week with fever followed by a good deal of stress over work, actual school and history studies. But it passed, and there is still three months to go before summer break... ..must try not to over do it.
I want to play and draw. Yup. 'till next time.