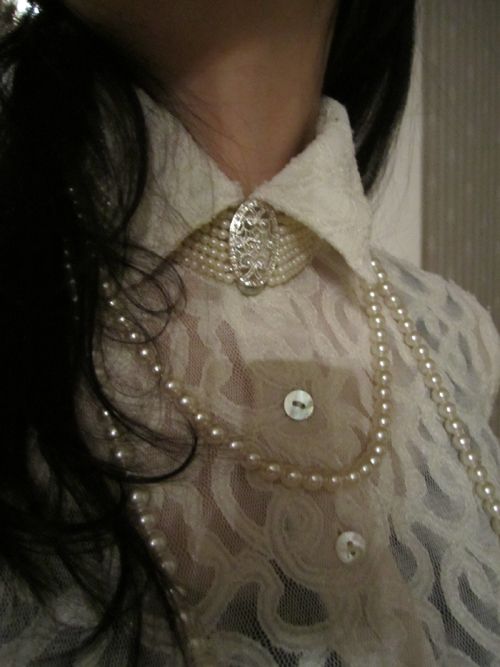 What can I say? Can't stay away from buying things altogether.
The above lace shirt I got from a friend. I was supposed to use it for crafting, but ended up wearing it.
The first lovely shirt was 1e, secondhand. The one in the center is also secondhand, 3e. The third one is Nightwish shirt from their official sites, and cost me good deal more, but I love it nevertheless.
These two are secondhand as well. The tulle skirt with dozen of layers I have used a good deal already, the vest... I shouldn't have bought another vest like this, but my brains went soft and things happened.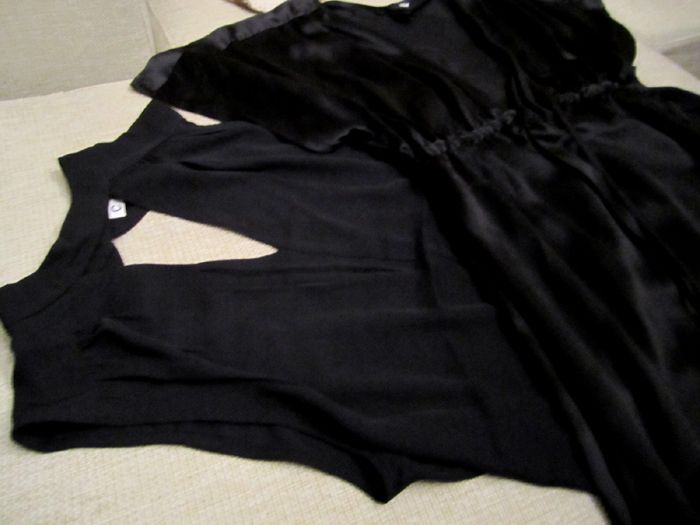 The chiffon shirt there has quite an interesting cut. And I got it from my mother. She does know what I like (but that doesn't prevent her from gifting me with blingy things now and then, haha). The other one is a silk shirt (secondhand) with a low necklane, can't wait to be able to stroll summer days in this one!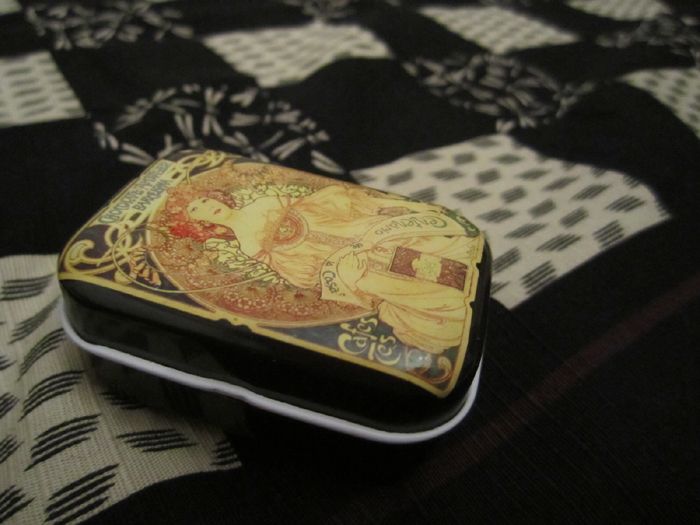 The thing underneath is a little tablecloth that I will look good underneath my sword holder. Would look. Had I now a table to put those both on.
The little box was just cute and had Mucha's artwork on it, so it tagged along half-accidently.
This corset thing I picked up from Huuto (secondhand). The back just looked irresistably cool.. so I went for it. Since I wasn't smart enough to take a picture of it's front, have a picture when worn: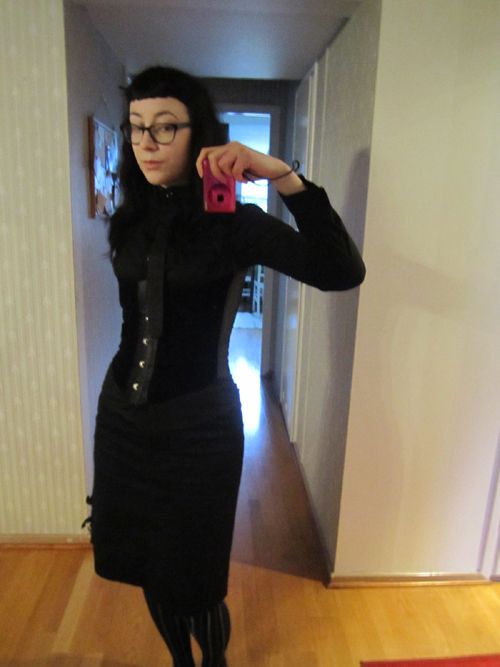 The corset's quality ain't that great and the bones are quite wobbly, but I like how it looks.
Somewhere before Christmas I organized a small group order to Sugarpill. So these are definitely not all to me, haha. Got some cute colors, and now I just wish I'd be able to wake up at mornings early enough to try them on too...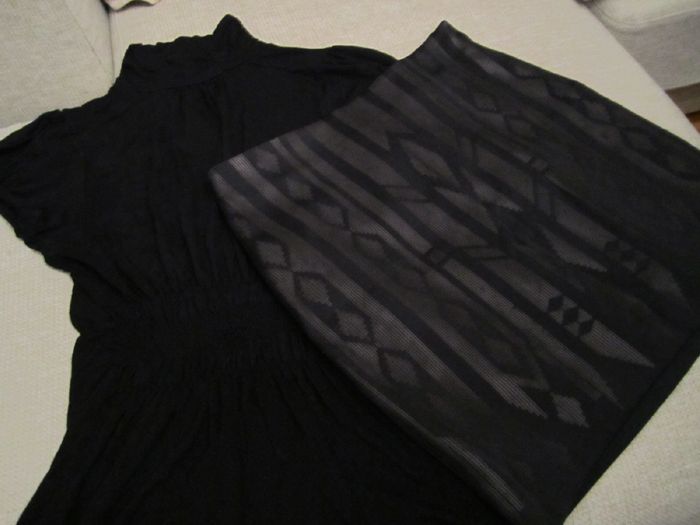 These two I found this week from some secondhand places. The shirt has cool high collar and buttoned back (1e) and the skirt's pattern is made by hundreds of tiny sequins (about 3e). Humdehum.
Not exactly sure if I'm able to incorporate this into my style but it smiled to me and I smiled back? (Secondhand again.)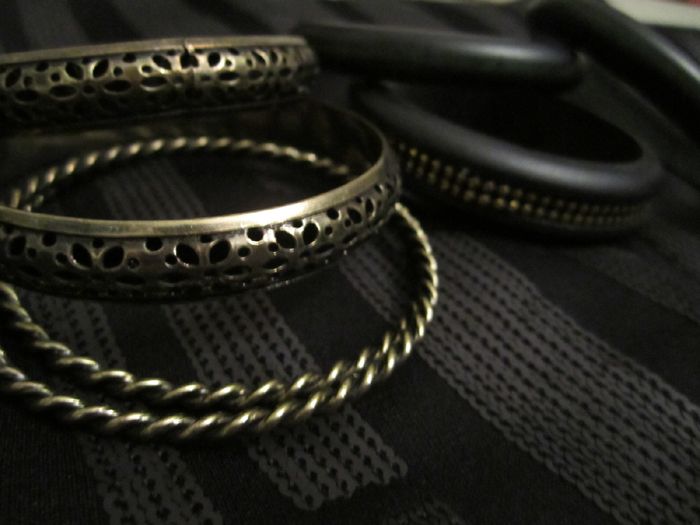 These seven bracelets were only 1e, so I picked them up. I'm not that good with wearing things around my wrists but might as well try? I seem to have bought a bit too much random stuff this time around..
Is a big glass plate with black and white picture. Yeah. Moving on...
This one literally stared at me. You recognize that eye? Yeah, I did too. And in the instant I was holding it on my hands with no intention of letting go. It's a card game about Middle Earth. The rule book is annoyingly thick, but maybe it will accompany me to some con and get to be played with.
(When in conventions, there is usually some point where you sit down and have nothing better to do, so I always tend to keep some small game in my bag for the team to amuse itself with.)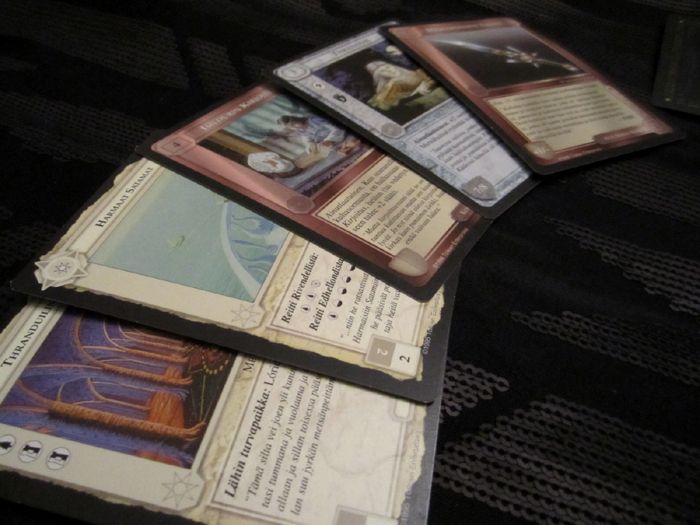 ~*~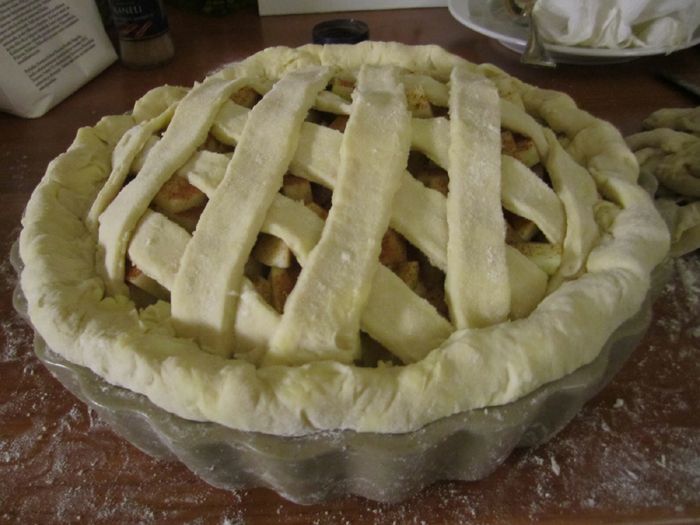 For those of you who were curious about how my first ever pie turned out, here it is ready to go to oven. I have some training to do with the visual side still, but the taste was just great! I'm looking forward to do this again sometime soon! It was very easy to make in the end, but I caused a good deal of mess on the way, haha. Poor kitchen...
As for other things.. it's been a good, relaxing weekend! My little sister came over and we spend the first evening and night (all the way until it was morning again) by fangirling Lee Pace with suspicious movies. The next day/night was filled with waffles and hours and hours of The Hobbit extras. You should all watch those (four little discs that come with the extended dvd version), for they will surely make you all smile a good deal and to love each of the characters (and actors) even more.