I had an unintended pause from blogging it seems! Last month just swirled past me, leaving me wondering if it even happened? What did I do last month...
Anyway!
As some of you know, I have enlisted myself to a new school since last autumn and because of that I have spend 5 days a week on a sewing machine.
This skirt was made for [
LonLon
] who agreed to be my "customer" for a school work. Poor little girl got poorer when I went for the picture she gave me and spend a good 4m of fabric to this! Haha!
The skirt was still held by my teacher, so have nice yellow lights of school.
I'm not sure of the exact length of the ruffles, but it's over 9m and under 12m.
Sorry for being in need of an iron. And that's the back of the skirt.
This skirt I made for myself. It's a tight pencil skirt with waistcorsety waist. My poor arms struggled to get the eyelets through the fake leather.. luckily a punch of class mates wanted to try the piercer too so I was able to make this, haha. Need some more strength in my arms...
While making the patterns for this, it became even more clear that I'm of a funny shape. I did already know that but making things to fit perfectly when you range from size 36 to size 40 is kinda ridiculous. And pants. I'm making some pants now, and I could just about scream in agony. ("Are you sure these sizes are taken right?" teachers say, "yes" I answer, and "oh" they go.)
Also made a petticoat out of cool black-blue organza. Erm. It will work, but I should have paid a bit more attention to it while sewing...
I also made one more skirt out of black fabric and fake leather, but that I didn't get a picture of because it was hidden by the teacher to some secret corner.
And a sword bag! Every girl needs a sword bag!
In fact I just spend the whole weekend at an iaido camp and now I'm sore all over and very tried. Still it was time well spend...! I'll try to work hard this winter! (Even though stayed home today.. but the knee-guards broke my skin and I only have two evenings to myself this week, so give me some slack now, please ;__;.)
Tuitui lil swords~
~*~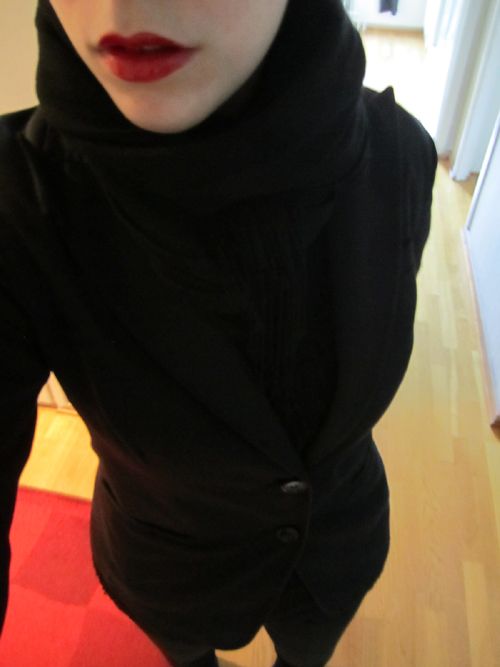 As for other things.
Guess what I'm waiting for. The Hobbit. So much that I'll prolly spend more time at Middle-Earth than the real world for the days till the 11th. And after that, maybe I'll just continue staying there until Christmas.