When you buy things, sometimes, it's a good idea to pay a bit more for some quality. To make the item last. Less damage to nature. Less damage to wallet on a long run. Less disappointments.
Here is a good example for us all.
I met shoes. I liked the style and needed some flat-sole somewhat-practical shoes. If they were able to be incorporated to different styles, even better. And I found a pair that somewhat fit the description. With lowered price, lucky me. I bought them. I wore them for two months, normal sort of usage: at work, to market etc.
I personally think that after two months the shoes shouldn't look like this: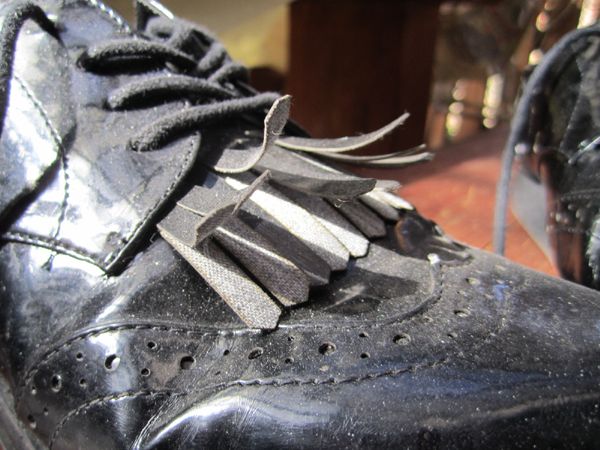 The fringe was the best part, I thought when I bought them. It was the one to start failing first too. This you could glue back, but then...
Wide smiles on shoes are not very nice thing.
Wide smiles on both ends, oh no.
Look at that. Look at that. In two months, I was losing the whole bottom of the shoe!
Most interesting to walk with those.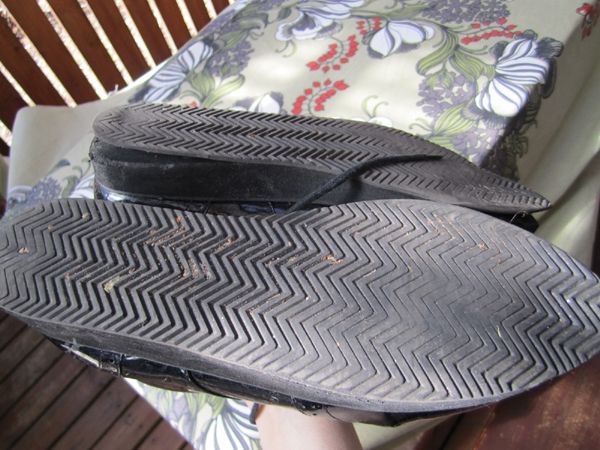 As you can see from the bottoms. I didn't use them enough for them to look as they look now.
To translate the pictures above to text: these shoes were complete waste of money. I would have been disappointed if I had paid more than 5e for shoes like that. And I did pay more, enough to be grumpy about it. And no, they weren't listed as 2nd class items.
So if you buy your items as new, buy things that can actually handle some usage. As listed above, you can save many things by doing that. Of course sometimes you don't exactly know what you are buying and this happens. Haha. They say that nowdays shoes/clothes are not made to last, but they should last at least few years instead of few months!
~*~
Blog chess time!
Bishop to A4.
The opportunity is too delicious to pass! Arwen was open to attack and Golum taggled her! What will Aragorn do now...
Yes, my humongous orc bishop did a transformation for this pic, as I made the move straight to [
Giko's
] own chess board.