Due my own lack of photos of Helsinki Lolita Convention 2013, I needed to wait for the launch of the official pictures before writing this entry, so let's see what I can recall!
As is known, I used good amount of time before the con to do a pile of sewing in order to appear behind a sales table with [
Talu
]. Also, because the sales table should be ready before people start pouring in, we needed to be at Helsinki very early. Oh, and because I volunteered in taking part in a fashion show too. Anyway. Early.
[
LonLon
] came to our rescue, having some lodgings at Helsinki, she took me, Talu and [
Giko
] with her, and so we went at the evening of the Friday on a train and travelled to the capital of Finland. We must have been quite a sight, for I was dragging this huge suit case after me, and Giko the Assistant carried a clothes hanger thing to the train and through the central of Helsinki.
Because me and Talu had still things to finish with our items, that is what we did, while the all of us watched Memoirs of a Geisha over midnight. I also put Giko and Lon to work to get my price tags and business cards finished. I'm a fair person. That's why everyone likes me so.
I think my price tags turned out rather nice. Thanks for the help with the coloring, Lon!
So that was the evening and the night.
At the morning we faced an early wake-up, and since me and Talu were faster than the other two, we dragged ourselves to the con area beforehand. Not that we got anything done except the achievement of finding our table before they got there too. We were super nervous of how we would blend in as new timers selling selfmade things, but I believe we did alright in the end. Here is a short video of us making our table ready for show (back then we didn't know Giko was video taping it):
I mentioned taking part in a fashion show, right? I had never been in one before, so I was quite nervous, stages do that to me. Luckily I met some really nice people at the backstage, it helped a lot when one got to speak it off with others in the same situation!
The theme we were asked to create our coords around of, and the name of the show, could be translated somewhat to "Absolute Elegance" (Ehdotonta Eleganssia). So there was many cool outfits in this show. Have a video, and see me not tripping on anything when I float on stage as the 3rd walker.
The video is shot pretty far away, but if you make it full screen and put the quality to HD, you can see all the outfits rather nicely.
Here is a link to my sisters version of it. It's a bit jumpy but it's from closer distance and different direction.
She was also awesome enough to tape two other fashion shows that were aired at the convention, and they are of a really nice quality too:
Outfit:
The Top Hat - secondhand anti

q

ue // Black Shirt & Long Jacket & Black Box Bag & Platform Shoes - Secondhand // Huge Cross Necklace - gift // Corset Pants & Bird Skull Earring - Selfmade // Skull Ring - Random
The pants I sewed have huge hems, which you can see pretty nicely on the video. The only somewhat informative picture of them would be [
this
], taken when I was sending my outfit idea for the fashion show arranger person. They were fun to make, attaching the boned corset part of them was... interesting. That corset was the third one I have ever made.
When I was walking around the con area some people told me that my clothes looked very nice on the stage and that they had cheered for me. They have no idea how happy hearing that made me feel. After all, in lolita business, selfmade/fleamarket coords are still quite few and hugely undervalued. Most of my coords are not composed of known brand pieces (even though I love many moitie things and would adopt something from few other brands gladly), so it's even more encouraging to get good feedback from people.
As obvious, I was most of the time poking Talu's cheeks behind our table, but still managed to meet familiar hobbyists and all new people from around Finland.
Photo by Miikka Pihlajamäki
This sweetie here you might have spotted walking on the stage right before me in the fashion show we were in. She was such a wonderful person, and we managed to get lost at the convention area during the practice show xD. Hope to meet you again soon!
Photo by Miikka Pihlajamäki
This beautiful lady here is someone whose style and skills I hugely fangirl. She is awesome, and so friendly irl, even though it was the first time we met. Sorry if I was a bit confused whenever I talked, meeting people I know from Internet has that effect on me I'm afraid.
While I sat next to Talu throughout the whole Hellocon, there is only few pics of us sitting behind the table and none of us looking awesome. Such a shame, I had so much fun with coming up with her outfit too! Angst! Talu is so pretty, and the gilet I made floated so awesomely when she walked around! Maybe we should take a video footage of you walking around with it?
Have some sister luv instead: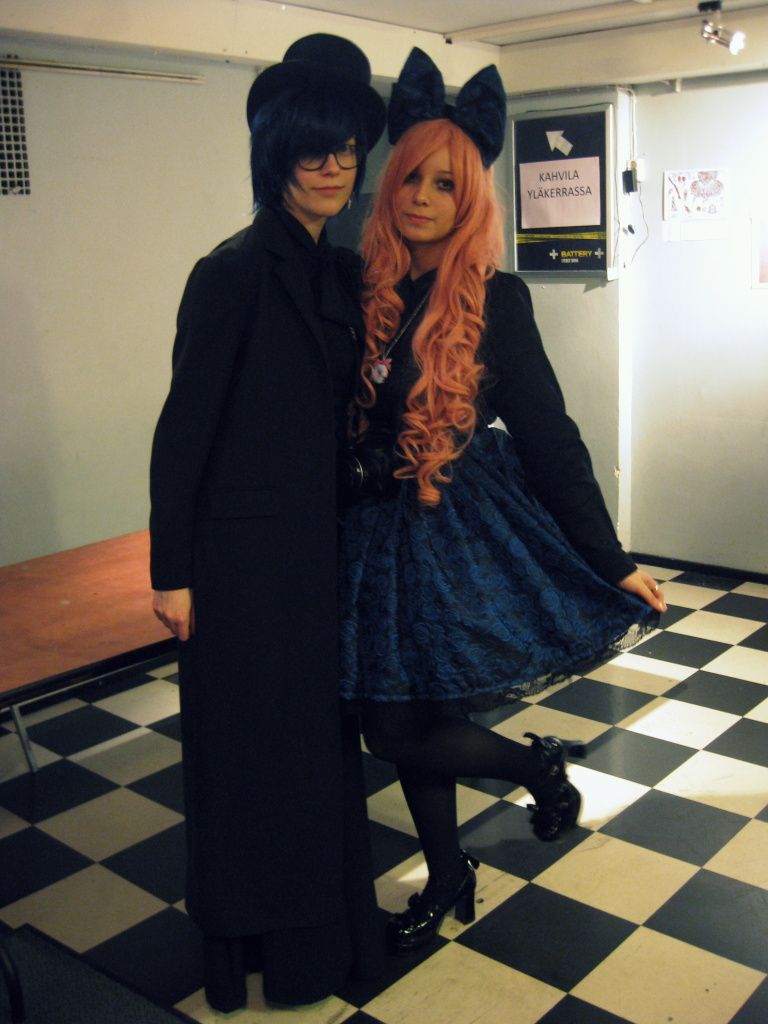 She is so pretty! I can't take it! Photo from Lon's camera.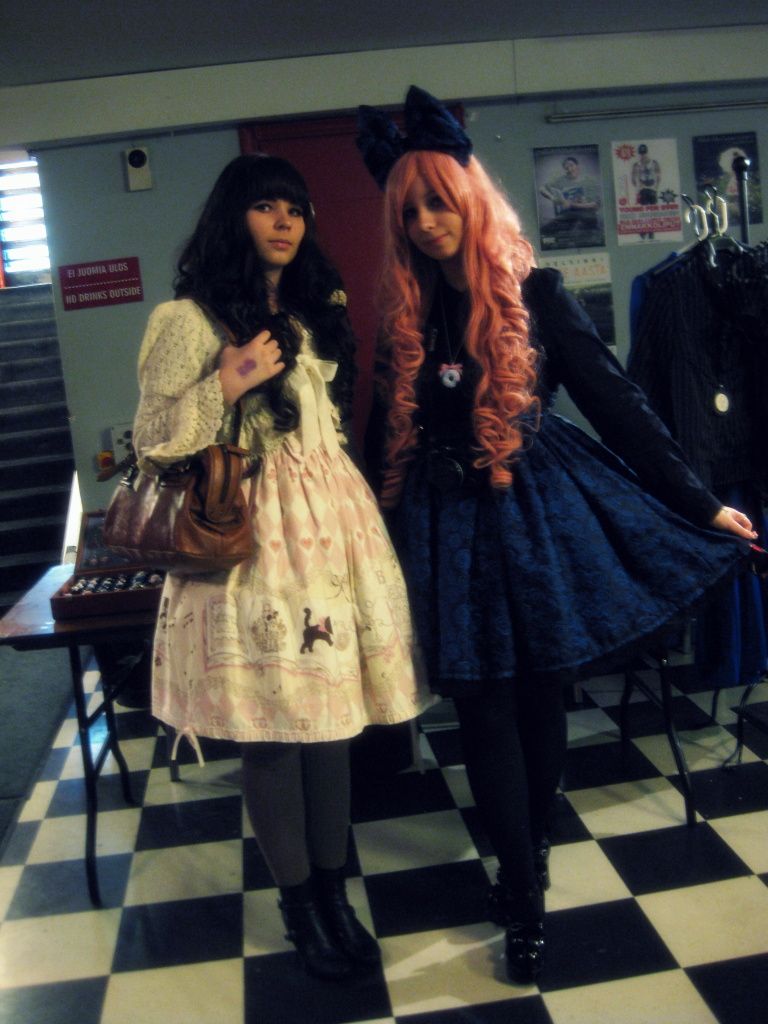 Here is Lon and Giko looking way too pretty in front of our table. All that hair! Gotta love it!
(I had totally forgotten that ribbon Giko is wearing, I made it from the same fabric as her skirt, and she finished it at Helsinki herself. Why be in time, when you can be almost too late, eh?)
I myself had used all my money on fabrics, train tickets and such, so I didn't get to buy things from the convention. Except for this superbly beautiful ring by Talu. I kept my fingers crossed the whole day that no one would buy it from her. Luck was on my side with this, and I totally stole it from Talu afterwards~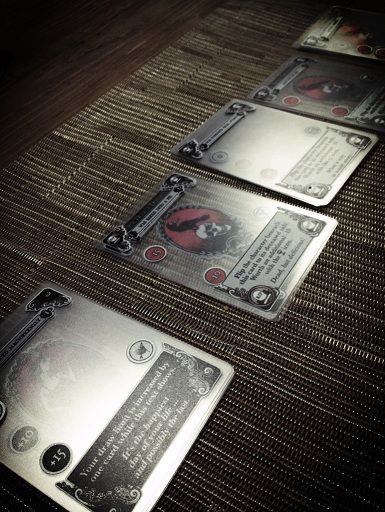 After the con we didn't make it back for the gig, because after tidying the places up we were quite drained. After some coma/sleep we played some cards and headed to the bus.
So that was Hellocon I, and overall, it was rather a positive experience. I really liked the amount of fashion shows, and as a seller too, it was very nice all in all. If we are brave enough, you might find us from there the next time too! If not selling things, we will come as visitors.