I was going to make this velveteen, pinstriped jacket with double rows of buttons, weird collar and half-length sleeves that would fit to kodona/male aristo stuff, while being weird in a right way. When it was all cut and half sewed, I realized that it was looking... not cool. Something had to be done. And I did. And in the end I got two jackets of sorts that had nothing to do with the original idea.
It had cute, tiny buttons too at first, but my ability to put anything on straight lines failed so bad, I had to remove them in the end.
This is a bit weird ankle, sorry, but the point is that the front is shorter than the back. Will look nice with waist corsets and stuff.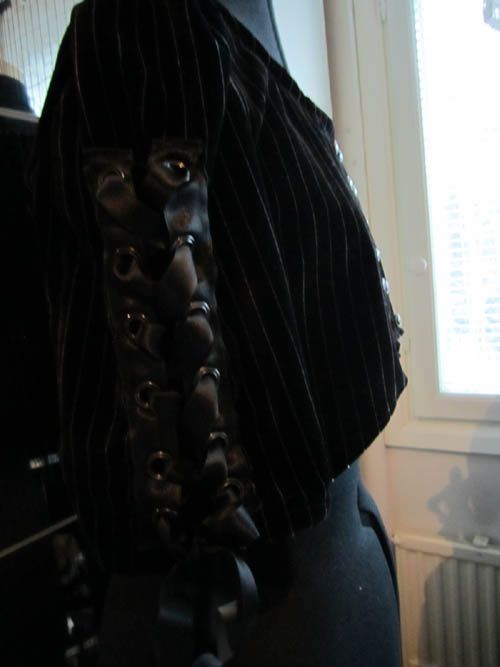 Smacked some eyelets and tied some ribbon on the sleeves.
And yeah, the dark photos and the ones with some light were taken on different days. In this one the jacket still had those buttons *cough*.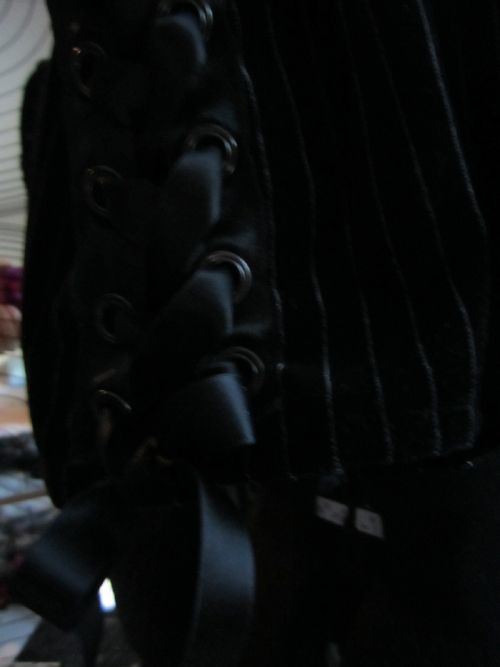 Zoom.
And that took only the first half of the screwed up jacket. So to get the rest of it on good use, I still had the bottom part to work with. That led to...
Smacking the eyelets is fun. But it scares the dogs.
The sleeves go with three layers. And they are made of the bottom part of the screwed up jacket, haha. The rest are left overs of the same fabric.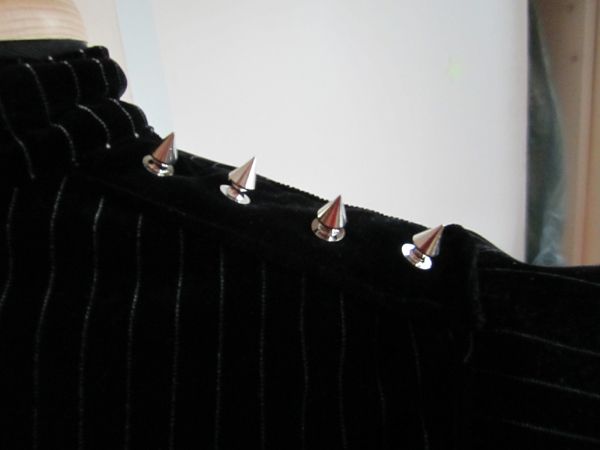 Everyone loves spikes. And they are attached on black velveteen left overs of this one miniskirt I made somewhere during ...last spring?
The back. And the eyelets are of a same size and on pretty much symmetrically attached, my mighty photographing skills just make them look kinda tweaked. And when I find some chain of a right size I'll put it through the eyelets and hang some DIYed/killed earring things on the ends. I just didn't find the chain from any of the shops I visited....
~*~
As for other things...
Nothing much, I suppose. I have been... waving a sword and playing video games and working.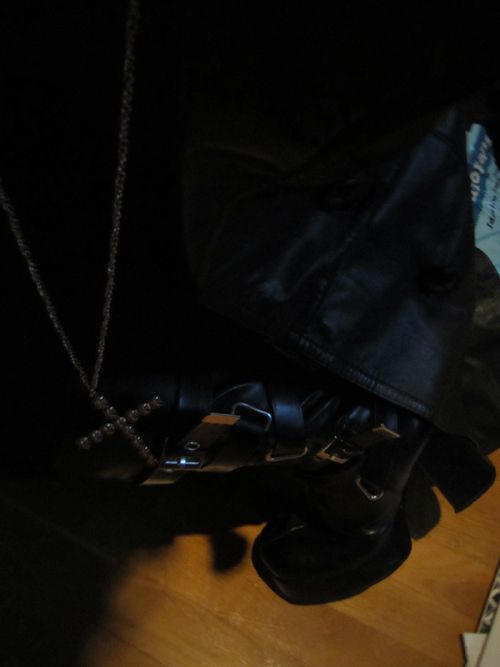 Simple all-black, a long leather jacket, scary boots and pendants are pretty much what I have been wearing all autumn. Nothing fancy, just hanging around.