Hello, hello, and welcome to the new readers [
Chrissie
], [
Meeow
] and [
Tinde
]! Have fun~
~*~
The last week was the most awesome week for a while! And that's good so, since it was the birthday week for me (in reality I'm leveling up this week, but since I'm having exams of a sort, it's not that much fun now is it, and one must party while one is still young, so it's only logical for having fun the week before!).
The week started by a stand-up event on Wednesday, as I and Miss K went to see a finnish stand-up comedian [
Sami Hedberg
] who is just as hilarious IRL as he is in the famous YouTube videos. I almost cracked my ribs with bursts of laughter.
The Thursday it was time for some stomping. I mean... dancing... of sorts. [
Battle Royale vs. Redemption Club
] took place here in Tampere and in I went.
My partners in crime for the evening, Mr M and Miss Jen, were horribly slow in appearing to the crime scene, so I decided to do the bravest thing for a while and entered the party alone. You have no idea how horrid it felt to enclose to the doors, my hands literally shook in terror, haha, what can I say? Moi can be such a nerv-wreck sometimes. However! I made it to the bar side and got me a drink and spotted this gorgeous fellow blogger [
Tinde
] and couldn't resist waving to her -and she totally saved me by engaging into a conversation with me. Thank you, let's meet again~
Mr M and Miss Jen came in a bit later, and it was my first time in meeting Miss Jen and she was such a sweetie~ That means I met two awesome, new persons today! -or night. Anyway.
I was also very settled on not dancing, having trapped myself inside a tight, long sleeved jacket, a full corset and an unstable hair accessory, but never say never: Jen talked me in to entering the dance floor area in the end of it, and that's where we were for the most of what was left of the night.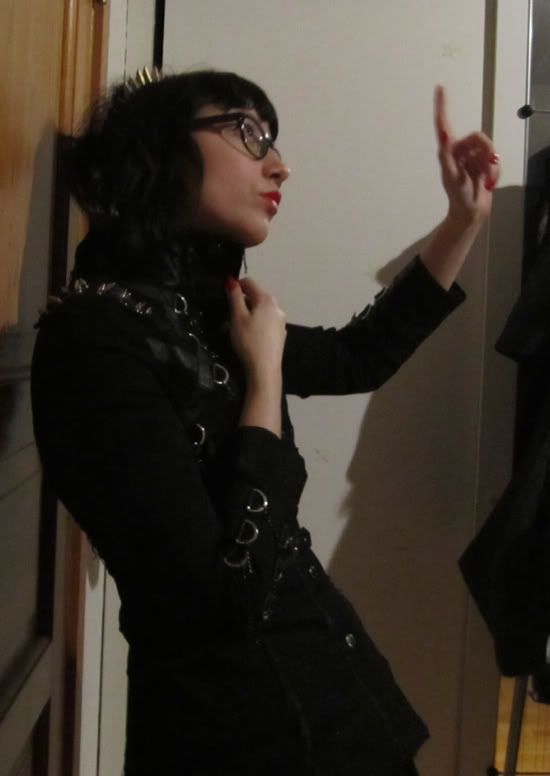 Sorry for the lack of proper photos. This is how clever they all ended up looking. Always take your pics
before
leaving to where ever you are going.
The Jacket - Punk Rave // The Black Satin Corset - Morticia // The Black Pleaded Skirt - Cheap Monday // The Shirt, The Shoes, The Accessories - Off brand, Secondhand)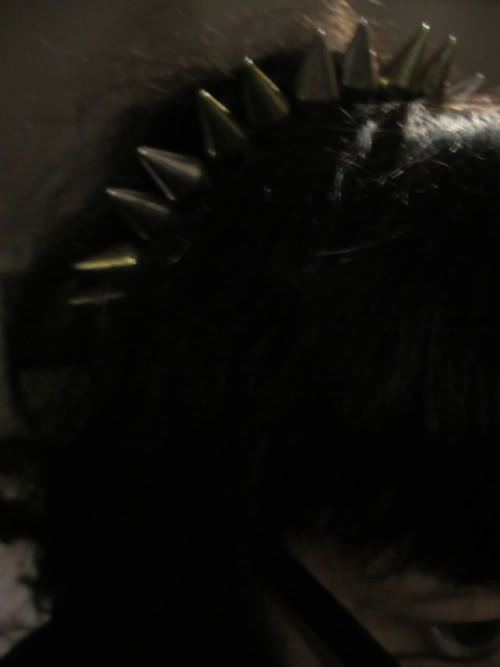 What's wrong with that eye...
The spikey hairband is something that followed me home this week, from GinaTricot. I have a soft spot for spikes and ... But hair accessories hate me in general, and so does this. Getting it attached to my hair demands a pile of other hair things.
~*~
The next day, Friday, it was [
Emilie Autumn
] time, as this beautiful creature came to perform in [
Klubi
], Tampere.
I had never seen her live before, and it was all so pretty and ..glittery. I spend a good while in just staring at the outfits. Needless to say, it was beautiful~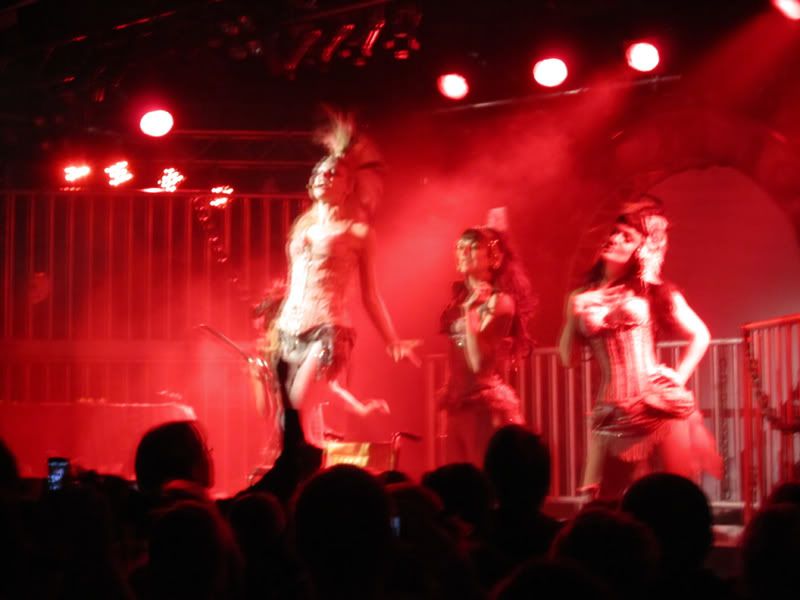 I was accompanied by Miss K and Miss E, who I met there the first time (cute girl, a friend of a friend, who needed me to drive her to sleep at a friend's place. Yup). Also ran to Mr M and Miss Jen from yesterday and a couple of other familiar fellows. I wish we had had more time to hang around!
Aand that's how scary I was this time.
The Striped Shirt - Secondhand // The Black Skirt - selfmade // Mini Top Hat - gift // Everything else - offbrand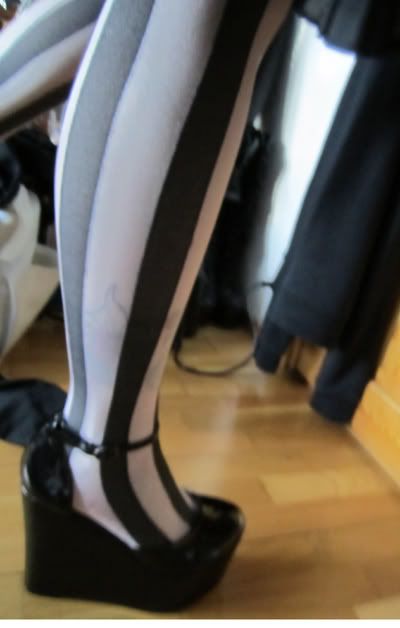 I broke these stockings! Aargh! Anyone seen similar ones on some website or somewhere?
And didn't wear those shoes, I was driving a car after all. And there is still snow outside.
And seems like my tattoo shines through a bit. Must remember to show it to you some other time.
~*~
On Saturday I hopped on a train with Miss K, Miss J and Miss An, and towards Helsinki we went. It was the time for the new round in the series of birthday Cruises, since four of us were having birthday in close by days. At Helsinki we met Miss A and Mr P, as well as Miss L and Mr I. That's almost all of the alphabets gathered again, huh? Anyway, the point is that I went to sail and dance over the Baltic with my closest friends, and we totally had fun.
Of this activity I myself have zero photos. I hope to snatch some from the others, but they are prolly horrible in quality so you won't be missing a thing!
As the Sunday came, we returned in a tired but pleased state to our homes.
~*~
As for other things, shortly.
I have been playing
Final Fantasy XIII
(so pretty), read through
Joe Hill'
s
Heart-Shaped Box
(cruel and interesting) and slept too little.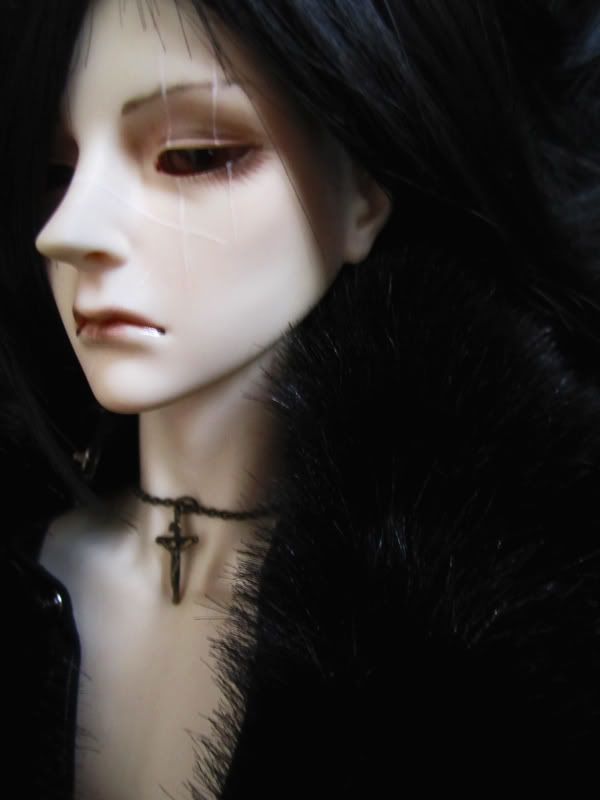 Few bjd photos [
here
] again.