Welcome
Chimamire no Bara
! I hope you enjoy the flight!
~*~
Oh my, the spring the spring the spring is enclosing and that means that I'll be very busy all the time. Trips, gigs, work and people. But I trust it to be fun!
This week it's going to be:
[
Nightwish
] is throwing a concert here at Tampere, Jäähalli this Sunday, and a new club happening [
Club Bella Morte
] is taking place here too on Saturday, over at [
Telakka
].
Also going to meet some good friends and to make a turn at a tattoo studio, while working every day. Now, must remember to sleep well to make it everywhere!
Also, as the topic of this entry perhaps suggested, I have been, very unwillingly, been dragged to shops and things have, very surprisingly, made their way to my closet:
Yes, it's
white
. I know, I know, but it had daggers and roses and it fitted like a glove. And it was -70%, which means 8e (Seppälä). Now just where am I thinking to wear such a thing.. escapes me.
I was (successfully) hunting black jeans, and these earrings screamed my name so loud that to save surrounding people from the noise, I had to buy them (GinaTricot).

These earrings cost 1e, from the same place as above. Cheapy cheap, must remember not to wear them over 8h.

Uhm, the cross necklace there had such a long chain that I fell in love (I'm weak, I know that too) with it. Long necklaces are amongst my weaknesses (GinaTricot).
The strawberry black tea over there, well, I needed tea?

I was hanging out with my mother and managed to talk her to buy me this book as a Valentine's Day gift, ohhohhoho. It's so pretty with its hard covers, color pages and black&white pictures.
10e, Suomalainen Kirjakauppa.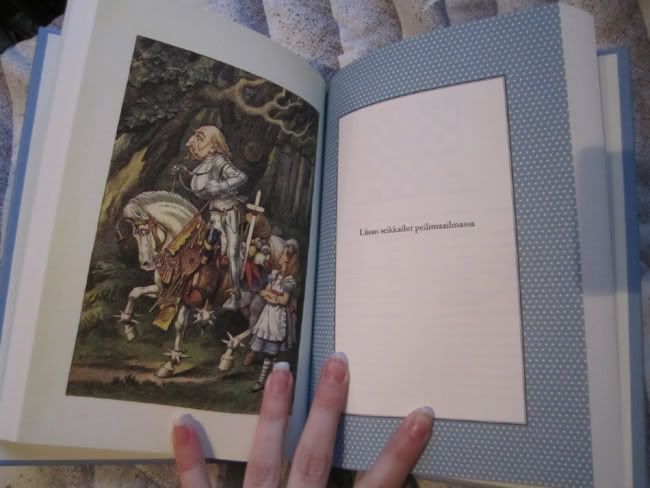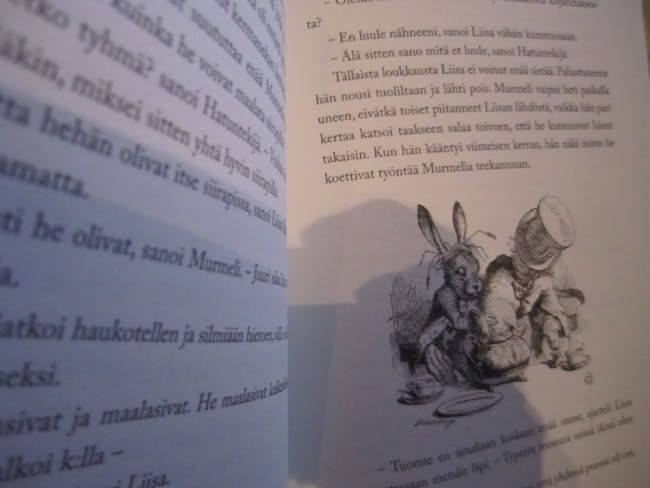 For a reason unknown I was wandering throughout the city with my sister, and as you can see, I did very well with my saving-all-the-money-for-Edinburgh.
Disney's Alice in Wonderland, secondhand, 8e, [
Makedonia
]. (Everyone loves Disney.)
Ninth Gate, secondhand, 4e, Makedonia. (Everyone loves Johnny Depp.)
P.S., 10e, Suomalainen Kirjakauppa. (Everyone loves fancy desserts.)
HorrorPops, secondhand, 5e, [
Swamp Music
]. (It stared at me.)
~*~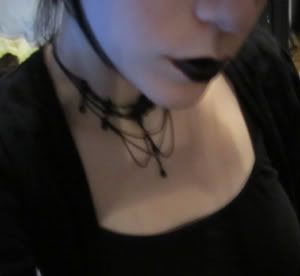 As for other things, it has been a nice week.
At school we were drinking wines and making cocktails (what kinda school is that?!), and I had good time with pulling out all the lovely make-ups and clothes (I work at hotel and am supposed to look as neutral as possible while there). Didn't get to take any clever outfit shots though, I'm afraid. The weekend went by working in night shifts, gaming
Catherine
and staggering downhill with skis and making noise while doing so.
Now then, see you soon~