Roses, roses. I was stitching these up one night while watching Merlin, and since they ended up looking like roses (which was the goal), I thought this might be of some interest to someone looking forwards to fabric rose tutorials. Yup, here we go.
A Fabric Rose Tutorial
You will need:
-fabric
-thread
-needle
First we cut ten pieces that remind petals. Being same size and pretty is recommended but you can do without too.
Let's take the first petal and roll it up. Sew on place.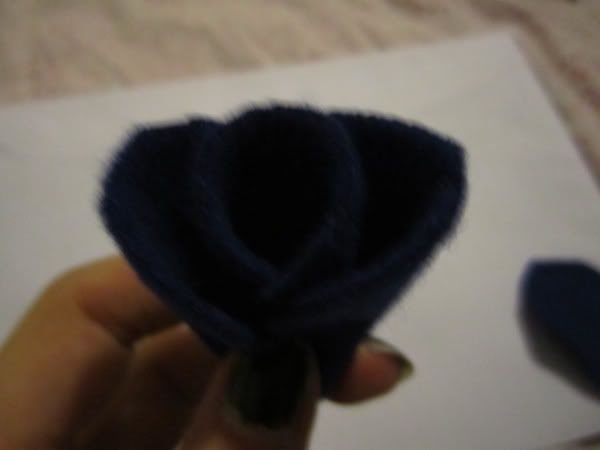 Take next two petals and wrap them around the first, on the opposite sides. Sew on place.

The 4th and 5th petals go opposite too, but now on the sides of the 2nd and the 3rd. See the picture. Sew, sew.

The rest of the leaves then: take one of the gaps (where the sides of two petals meet) and put the 6th on there, then the next one will overlap that one, and the next one will overlap that one. Keep eye on the overview: if someplace needs a petal, you can put it there.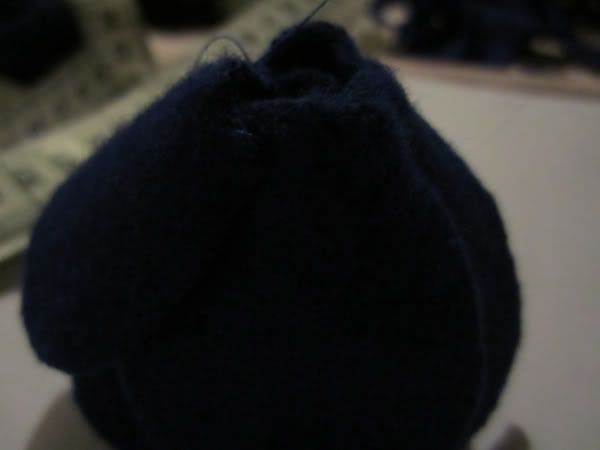 That's how the bottom looks, pretty much.

Depending on if you put the 6th-10th leaves overlapping or on gaps, you will get slightly different looks:

On the gaps. Mostly. I don't know from where that one petal is sticking from *cough*.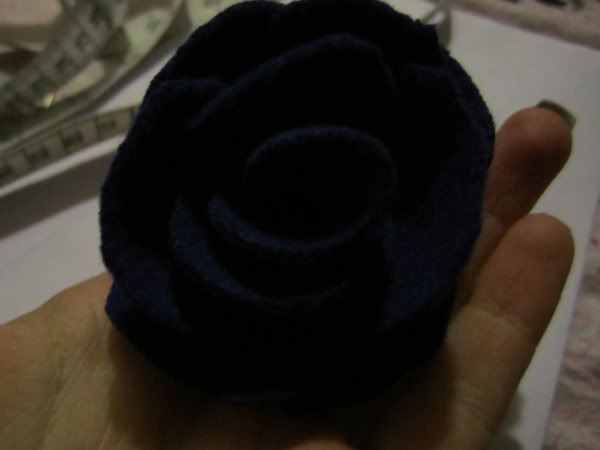 Overlapping.
Alright, and after you have watched some TV while making these, you may find yourself with a pile of roses. Now where to attach them. The sky is the limit?
~*~
As for other things...
I should be sleeping already!
Well, must do the blog reading marathon tomorrow then, ah, the early mornings, how much I love you.
Also! The spring already has two concerts waiting, but now there is also
the Birthday Cruise
, just like last year, and apparently a trip to
Edinburgh
with K and H. It will be wonderful (even though that means that I need to stay away from shopping for the rest of this winter).
Also! I managed to keep my
New Years promise
and put a pile of things on sale (I get easily attached to material things, so it was quite a task). I'll try to put some more stuff on sale/ give away/ dispose if I manage. Maybe.
Once more: Also! Since this is a sewing post, let's have these two posted here too: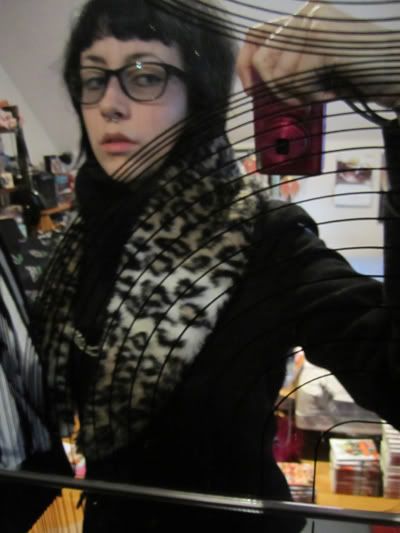 After posting the fur muffler tutorial, I also ended up making this happy fur collar. Can be thrown over anything. As for how practical it is.. let's not go there. But it gives some color to the black winter jackets. (And this one old chain thing finally made it's way to real use!)
Should I make a tutorial out of this too? Though it's the simplest thing I've ever done perhaps...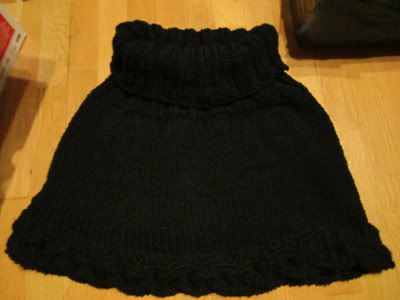 This is a small cape, can be thrown on jackets too. Or just shirts. It's comfty~
I was supposed to make it myself, but in the end I made just half of the middle part or something. Oh well.