Welcome aboard [
Mortisia
]!
~*~
The 2012's fist month is closing to it's end and I was a lazy blogger during it. I was lazy in everything else too, though. No drawing, no sewing, no writing. Must try to catch up in February then!
Vapriikki Vintage 28.-29.1.2012
was the thing this weekend. Vintage happening with exhibitions, dancing, vintage market, fashion show, burlesque and so on. My visit to it was much shorter than expected. The January laziness must be the cause.
Here is few shots from the market area:
~*~


Whereas I carried nothing home from the vintage market, these things have found their way in in some point.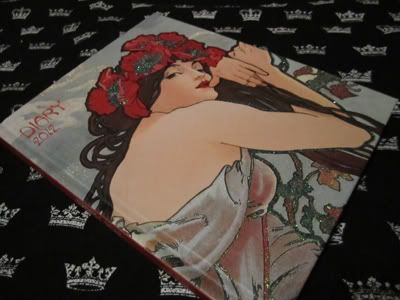 I found my self in need for a calendar and went to find the prettiest. Mucha again? Well it was the prettiest, no doubt (Suomalainen Kirjakauppa). Oh, and today I went by a shop with small Mucha carpets! Now that's sweet, but I couldn't step upon one...

Apocalyptica
's 7th Symphony was about 7e at [
Swamp Music
]. I love cellos, and I love their sound. That's why I was slightly disappointed with this CD, the cellos sounded mostly like electric guitars. Hmm.
AFI
's Crash Love did a bit better (and costed more), even though they are clearly lighter than they used to be. But I rolled this CD around a number of times even today, it kept me nicely energetic, mheh.
Now that's very... ... it's not from the kid's department! Somewhere inside this pink thing is
Limecrime
's black lipstick, Styleto (or something). Very nice black indeed.
This new scarf had such a beautiful skulls on it that I needed to name it and carry it home, where it now waits for warmer climate while hanging on a bookshelf. (GinaTricot)

Just like the scarf above, this skull necklace was found at GinaTricot. Skulls are nice. And they smile a lot too.
~*~
As for other things.. Well not that there is much else. I did manage to read through
Anthony Capella's The Empress of Ice Cream
(thumbs up for ice cream trivia) and start
Robert Sheckley's The Alchemical Marriage of Alistair Crompton
.
Also played through
Resistance
, of which I haven't yet managed to write a gametalk to the other blog. Now playing
Catherine
and
Devil Summoner
, both of which are wonderful games.
And January is coming to it's end clearly since I started a sewing project today. It's going to be a dress. You will see.
Not feeling very photogenic today, so have a bad photo!
Pink? There is something pink? Well...at least they ain't bunnies, right? Yes, they are for one's feet...