I spend some time behind a camera. Few more [

here

].

So! I had small black pieces of fabric floating around -like always- and this time I decided to turn them into a bjd's dress. Since they were such a small left-overs, some seams are really visible on the hem. But otherwise it turned out alright (even if the waist had a bit too much room, wops).
Here is a better shot to see the dress itself:
~*~
Few more of these [

here

].

This one fabric had waited it's turn for quite a long time, so I decided to do something about it too. The sewing machine didn't exactly love the fabric and I ended up sewing the gatherings by hand.
Some detail shots: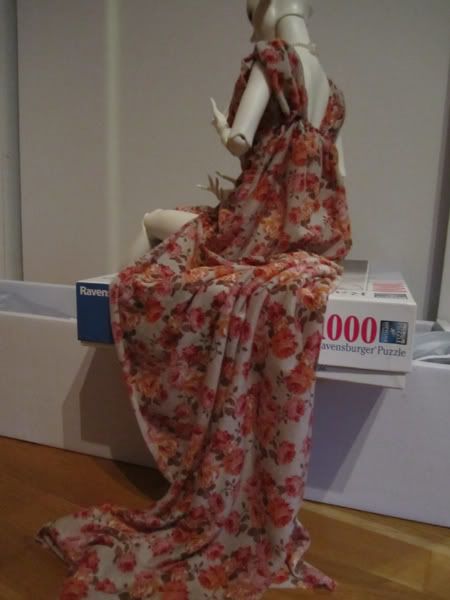 It's looong.
Square back. I had other plans for this, but then it would have become too hard (if even possible) to put on her...
~*~
I was off to school.
T-Shirt - Iron Fist // Black Bolero - random // Black Skinny Jeans - Living Dead Souls // Cross Collar Necklace - Selfmade // Armor Ring - Seppälä
The armor ring there is a new thing. It so stared me at the shop (Seppälä, 7-8e). I had to save it (especially since Westwood's armor ring is still out of my reach). But it's not very comfortable to wear... nor practical.
I'm working on my dress for Halloween, since the pretty fabric I ordered for it arrived some days ago. I better finish it in time!
Also working on the next Halloween post. It's almost ready...