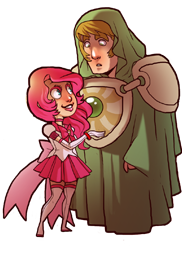 Alright, this entry wasn't written quite "tomorrow" from the previous one.
It's relatively late and my school starts tomorrow (nervous), but I have so much stuff in store for this blog, that I just have to make this entry now. (And not because if I go to sleep the next thing I'm doing is going off to a new school.)
~*~
Anyways! Tracon VI. A con with two days (and one night, there was something going on during the whole night this time and just how cool is that). Let's start with the day one, 3.9.2011.
Starting with a slow morning, me and my sister [
Giko
] headed around 10:00 to the con area, taking first a round around before attending a kimono workshop, after which a cosplay competition took place. Then we were joined by J, who had slept on her phone and done who-knows-what to the alarm clock (ie. you are late!). We strolled around, playing the weird video games at one floor and went to the cellar to learn how to play mahjong (NOT that thing on your com, the real one). And that was so nice, maybe we'll get those pieces to ourselves and play outside the con too. If only there was enough players around... And oh, I lost every round.
I was still suffering from my flu, so I grew pretty tired towards the evening. Giko would have lasted through the night, but after spending a moment at the animekaraoke (we didn't sing, don't be afraid), we headed back home.
The con team playing the weird video games.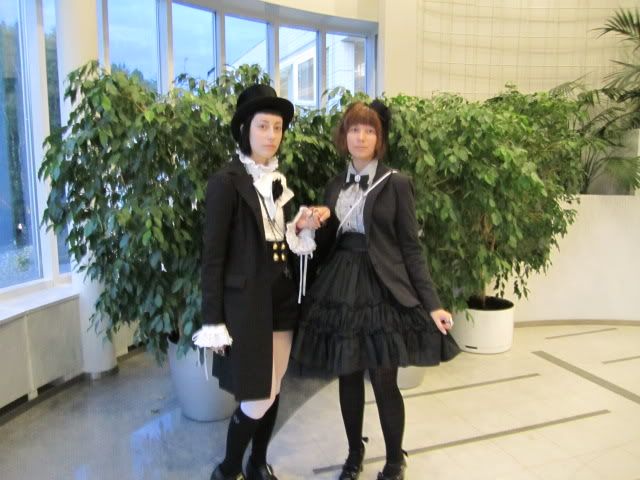 Me and mah sister, with lovely blurred faces.
Tired but alive, after con at home.
Jacket - secondhand // Shirt - F+F // Shorts - self-made // Black Top Hat - secondhand antique // Cross-Chains Necklace - Europe House // Black Rose - Bijou Brigitte // Everything Else - totally random
~*~
The day two, Sunday, 4.9.2011.
Ughhhh, an early wake-up, but up we go and off we run. Starting the day with a film premiere by notorious Finnish fandub group ([
link
]), after which we ran to see the end of Cosplay Date (some really good players were present, amusing). Then a fast visit to buy some cute snacks, a picnic at the top-floor and then storming to Lolita Fashion Show (I could have totally adopted some of those clothes~). Then off to listen more about Kimonos As a Hobby (J joined us here, she must have slept on her phone again and whacked the alarm clock with a bokken). Then some more cosplayers (there was a gigantic load of these cosplay-related things, wasn't there), and then we would have finally had some time to poke the mahjong again, but since the con was ending, we figured that they prolly had cleaned the games away already.
It was an enjoyable con, meet you next year again, Tracon!
Ready at the morning.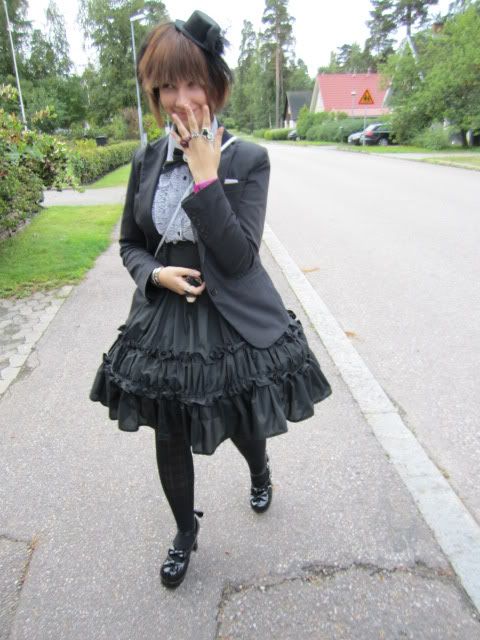 Giko, who doesn't exactly love my camera skills.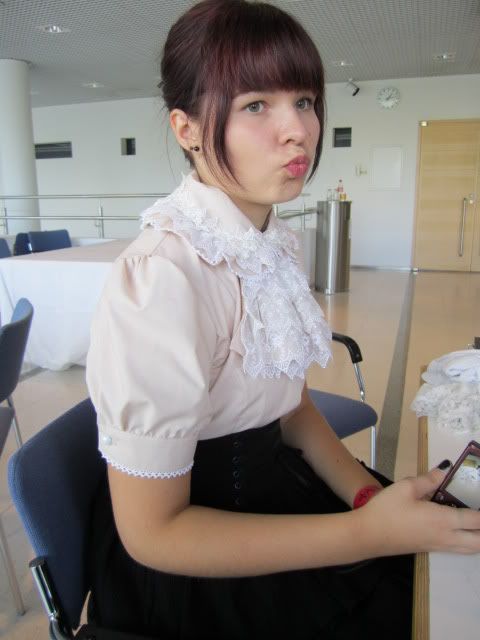 Lon-chan ([
Namuless
], who posted an entry with lots of photos of the fashion show) joined us for the Sunday.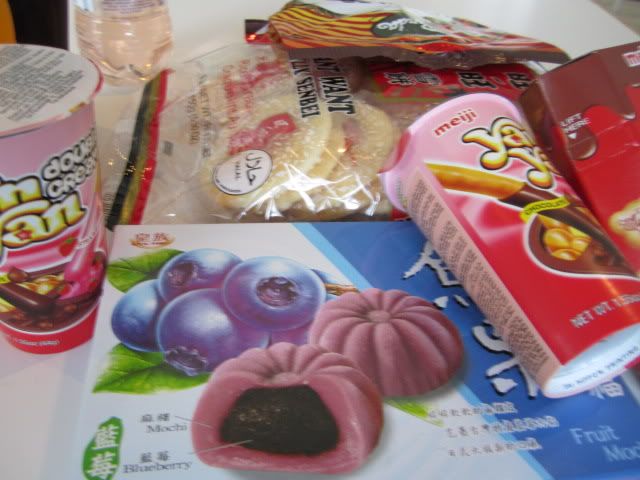 Yom. While we were having our picnic time and waiting for the fashion show to start, many cute lolitas (and one handsome aristo) strolled over and camped around the table. It was wonderfully nice to meet and speak with them again (a pair I didn't know before, but now I have met you, buhhahha).
I managed to exchange words with many other lolitas during the con as well, they were all very pretty this weekend~
It still escapes me how something this cute can taste so dull.. So cute...
After con. Tired but pleased. (Gosh I didn't remember that this shirt shouldn't be worn without a vest while having a kodona day. And the half-vest part is badly too, but I included this just because the morning shot was so murky...)
Pretty much the same things as at Saturday but...
Shoes, Box Bag - secondhand // Tote bag - Cloudberry Lady // Pocket Watch - gift // Watch Necklace - secondhand antique
// Shirt - random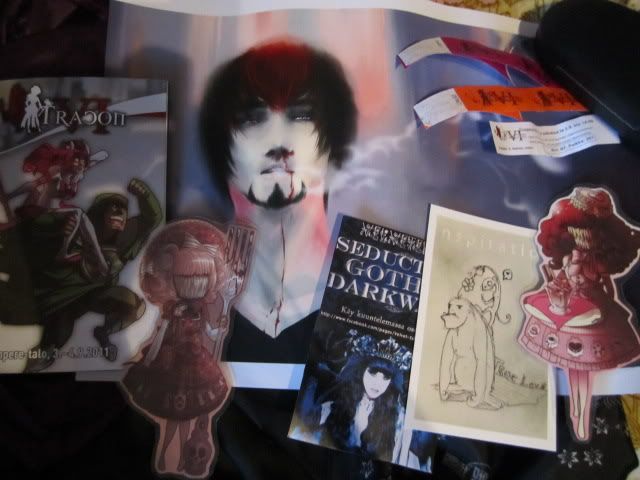 Since the tickets themselves cost so much (20e for the weekend), I didn't buy any comics or fancyness this time. But these few things from the Artists' Alley I couldn't leave behind. Two Koneko-chans (the theethy cuties) by [
Dashi
] stole my brains right away (and my sister took the other one from me later ;___;), and the overly cool A3 print by [
Mort
] also told me to buy it.
To get a nice overall look at Tracon VI, you can watch this beautiful video made by someone who walked around with a camera [
link
].
~*~
Today was the day that Ofelia Market took place, but I'll be back to that later. Now I think I might want to sleep and try to be in time at school next morning.
Also! Only two days time to poke the takeaway post, so if you would like to get a pretty necklace, leave a messege in that post!